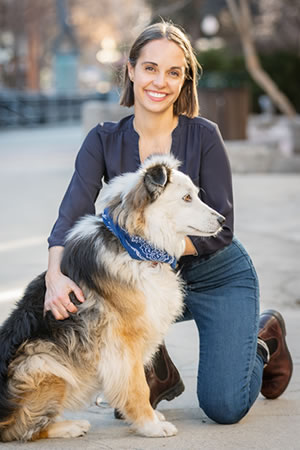 Lindsay grew up in the Bitterroot Valley. She attended Carroll College where she graduated maxima cum laude with a degree in History. Though it was always her goal to go to law school, she spent a few years doing seasonal work before attending University of Montana School of Law. During law school she participated in the China study abroad program and Public Lands and Resources Law Review, serving as the business editor. After law school, she spent a year clerking for Judge Sam E. Haddon, a United States District Judge for the District of Montana. She then served as a law clerk for Justice Sandefur on the Montana Supreme Court.
Lindsay believes that as a lawyer, an integral part of her role as an advocate is to help people understand the process and their legal rights. She recognizes that when most people engage with the legal system, they are often going through a particularly challenging time in their lives.
In her free time, Lindsay enjoys spending time with her dog Freya and her fiendish cat Mavis. She enjoys skiing, running, yoga, and taking advantage of the spectacular trails around Helena.